About us
About Phi Kappa Phi
Phi Kappa Phi is the nation's oldest and most selective multidisciplinary collegiate honor society. Founded at the University of Maine in 1897, Phi Kappa Phi recognizes outstanding achievement by students, faculty and others through election to membership and through various awards for distinguished achievement. Each year, approximately 30,000 students, faculty, professional staff and alumni are initiated into the organization nationally.
Mission and history
In 1897, ten students at the University of Maine organized an honor society to recognize academic achievement. By 1900, chapters at Maine, Tennessee and Pennsylvania State University had come together to form Phi Kappa Phi. Since its founding, Phi Kappa Phi has initiated more than one million members. Its chapters are on more than 300 campuses in the United States and the Philippines. The society's mission is "to recognize and promote academic excellence in all fields of higher education and to engage the community of scholars in service to others."
At initiation, members receive gold keys and certificates of membership. But Phi Kappa Phi is more than a gold key and a line on a résumé. It is a more than 100-year-old organization comprised of the best and brightest from all academic disciplines — a community of scholars who are leaving an enviable legacy for future generations.
Prominent members of the society include former President Jimmy Carter, sculptor Glenna Goodacre, jazz musician David Brubeck, author John Grisham, politician Hillary Clinton, Pulitizer Prize-winning poet Rita Dove, associate Justice of the Supreme Court, Ruth Bader Ginsburg, Nobel Laureate George Olah and many more.
VCU chapter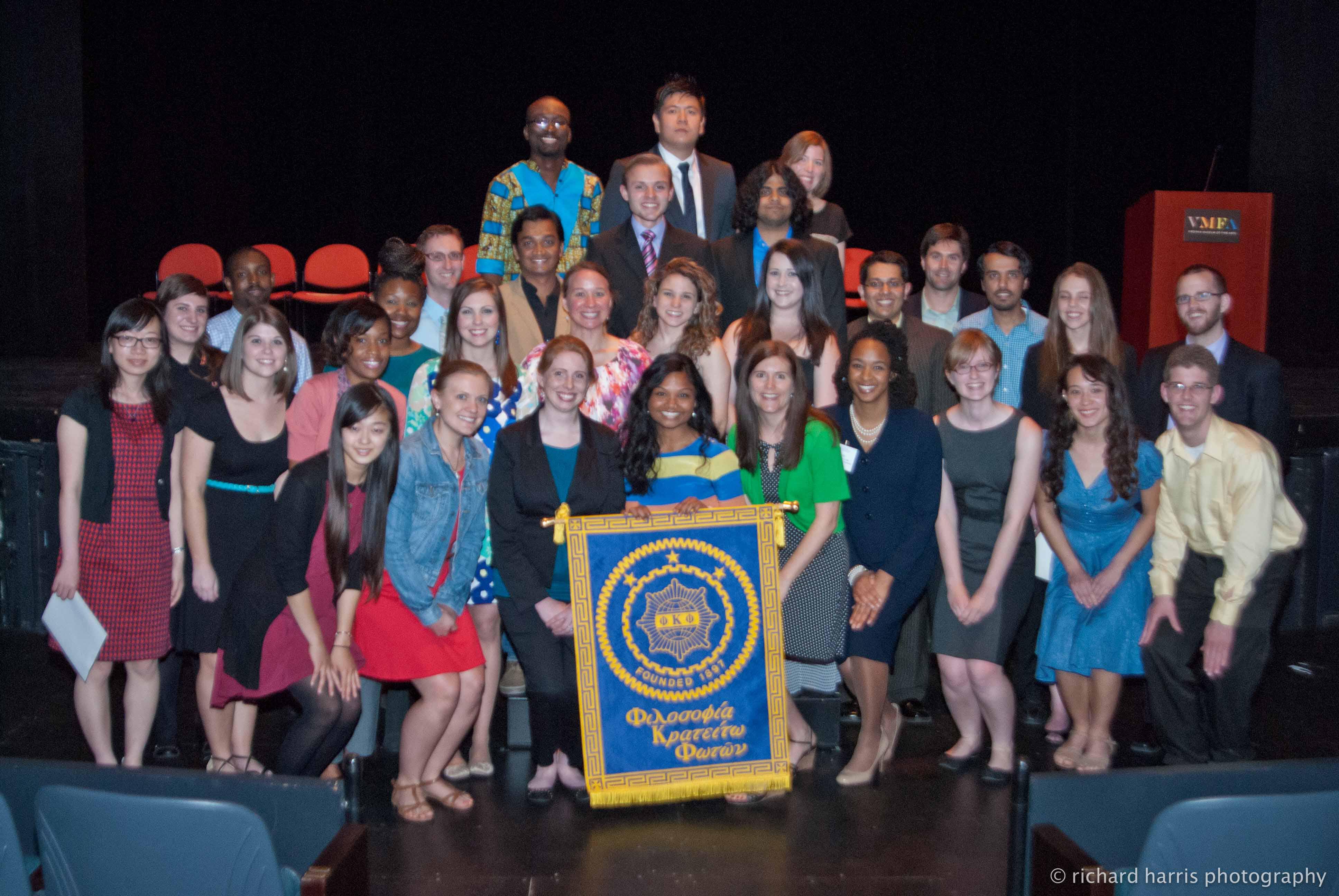 The VCU chapter of Phi Kappa Phi, installed on Dec. 3, 1976 with 23 members signing the charter, celebrated its 25th anniversary during the 2001-02 academic year. The chapter's first president, Dr. Lauren A. Woods, continued to be an active and supporting member until 2002, when he moved to California to be near his son. In honor of his pioneering work and dedicated service, the chapter named a scholarship in his honor. The Lauren A. Woods Scholarship is presented annually to the chapter's nominee for the National Fellowship Award.
Over the years, the chapter's presidents have reflected Phi Kappa Phi's diversity and scope. Past presidents have come from business, social work, community and public affairs, dentistry, elementary education, physical education, English, astronomy, pharmacy, history, mathematics, pharmacology and criminal justice. Notable members of the chapter include university president Michael Rao, Ph.D., and David Baldacci, VCU alumnus and best-selling author.
The VCU chapter is administered by an Executive Committee of faculty and administrators.